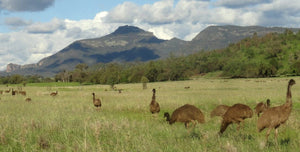 Quality Australian Made Emu Products
Farm Shop
Emu Logic farm shop has a wide variety of displays showing all about farming Emu's, as well as farming in the local area.
The shop also has everything emu for sale, or you can place an order with us at anytime online.
Opening hours from December until March will be Friday and Saturdays 10am - 4pm. If you have a group wanting a tour please contact us and we can organise a time for a tour during these months.
Tours will run at 11am and 2pm. They can be booked prior to visiting, please head to our Book Tour page to pre book or contact us to book a time for a tour.
Times change through the year, so make sure you check ahead of time if you are planning on a visit. If  you are making a special trip out to see us please contact us to confirm we haven't needed to close for an unforeseen reason
Ph: 0268254346 or
Email us through our contact us form.
Emu Products
At Emu Logic, we are proud to offer a wide range of top quality emu oil products, which include:
-Pure Emu Oil
-Emu Oil Soaps
-Emu Oil Lip Balms
-Sorted Emu Feathers
-Emu Eggs
-Emu Jerky
Check out our new Jerky Subscription to get some delicious Jerky delivered to your door every month!
All of our products now have a flat rate shipping of $10.
All of these can be purchased from our secure online store.
Farm Visitors
Take a tour with us and you will get to experience our big birds up close and feed them in the paddock. Between July and October you will also get to meet the chicks and get a photo with them as part of the tour. For more information check out our tours page.
Tours normally run at 11am and 2pm but we encourage everyone to Book ahead to ensure you don't miss out seeing these wonderful birds up close.

If you are after a place to commercially film emus or other farm animals please contact us.
Subscribe to our newsletter
Promotions, new products and sales. Directly to your inbox.